Industries We Serve at Lawn Ads
Roofing Contractor Signs

They need to find a roofing expert who can give them the right services and products. However, they also want to make sure that the roofing contractor they hire offers competitive pricing. When searching for Roofing Contractors, it is crucial to do research. A roofing business is one of the simplest businesses to start allowing anyone with a couple of tools to claim to be a roofing professional. Get ahead of the competitors with Lawn Ads Lawn Advertising!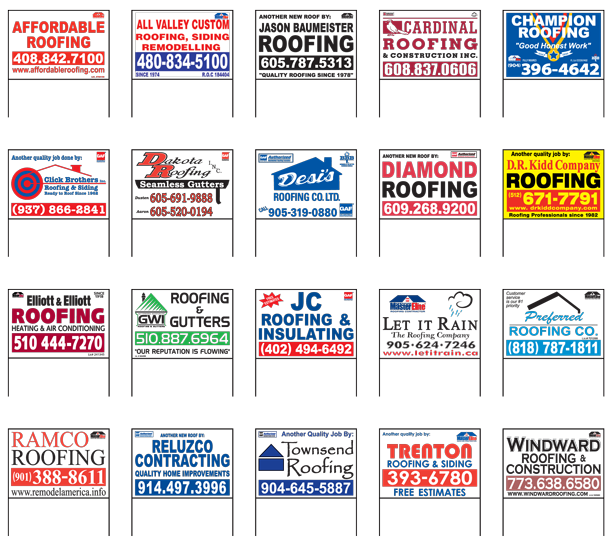 Window And Door Contractor Signs

When they decide to move forward with their remodeling project, picking the right window and door contractor is very important. They will need a company that takes pride in their window installation company, otherwise, less than a year later they will start to notice the consequences of going with the "cheap" alternative. Let them know you mean business.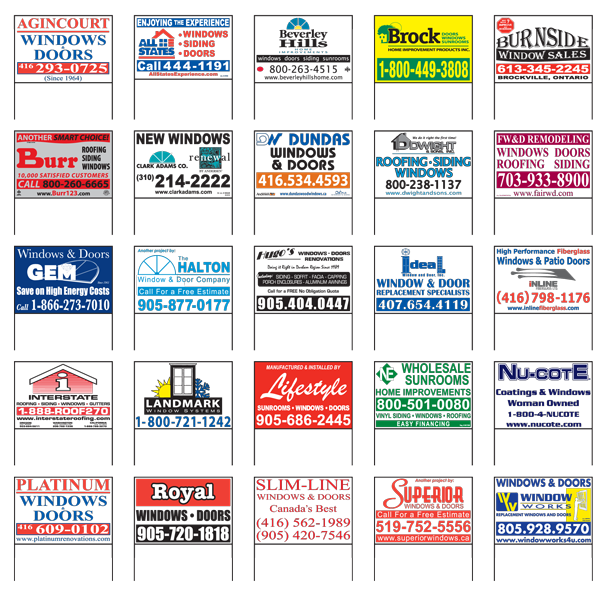 Painting Contractor Signs

Most businesses have lawn signs and painters are no exception. Lawn advertisments can provide homeowners with plenty of useful information about any potential painter they are looking at. While it is the information you want them to know, it is useful to help them understand what services your painting company provides and how long your business has been operating. Your Lawn Signs can also help to show them your level of professionalism.

Century Painting

Creative Painting

Foggs Painting

JPA Painting

Steve Ferris Painting
Renovation Contractor Signs

Home renovation has become quite the trend nowadays. It is not like the time when renovation was looked upon as big a headache as buying new property and moving to a different city. This creates a problem. For those property owners who are not in the property business it can be tricky to find the right building contractor to work with. Lawn Ads Can Help.
| | | |
| --- | --- | --- |
| Beach Reno Bros | Brock | Double Diamond |
| Beverly Hills Home | Lada Construction | Lada Construction Magnet |
| Eichhorst | Randi Renovations | Unicorp |
Landscaping Contractor Signs

The fact that a wonderful landscape can increase the worth of a home, office or any property has made landscape contracting a very competitive field. A landscaping contractor is a true Renaissance person, as he does more than just one job of landscaping. Even though the final product is beautification of a property, a first-rate landscape contractor must be noticed first. Let Lawn Ads put you in front of the competitors.

Boston Brick & Stone

California Waterscapes

GT Lawncare

Selders Landscaping
Plumbing Contractor Signs

If you are not already using lawn signs to get in touch with customers then you need to start now! Lawn signs is by far the best and easiest way to market your business for cheap – and it works! You can reach new customers regularly with lots of different types of signs, promoting special offers that you have, why you are the best plumber for the job, showing them referrals, thanking them for the work etc. The list is endless you just need to spark up your imagination. And the best thing is it costs very little.

Drain Rooter

Roto Rooter

Drain Rescue

Mr Rooter
Political Campaign Signs

Campaign signs serve multiple purposes, but first and foremost they should establish and reinforce name identity. Just like any business, your campaign and election lawn signs are your logo, the "brand" by which people recognize you without seeing your face. Think simplicity, think readability and think printer friendly. Don't make voting for you difficult for voters. Make your name-sake memorable, but not cumbersome. Your signs should be the most powerful first and last impression voters get. Now that you have signs out of the way, go shake some hands.
| | |
| --- | --- |
| Hilda Andrade | Sam Arora |
| Rob Burton | Perrelli |
We have what you need for your political campaign!

Corrugated Yard Signs
Corrugated Road Signs
Highway Road Signs
Double-Sided Fold-Over Yard Signs
Jumbo Double-Sided Fold-Over Yard Signs
Poster Signs
One-Sided Road Signs
And Much More

Lapel Stickers
Bumper Stickers
Window Decals
Palm Cards
Rulers / Bookmarks
Doorknob Hangers
T-Shirts
Campaign Caps
Doorknob Bags

If you are looking for lawn signs in the US or Canada, please call us at 1-866-LAWN-ADS or fill out our online request form.