Magnetic Signs
Full Color Magnetic Signs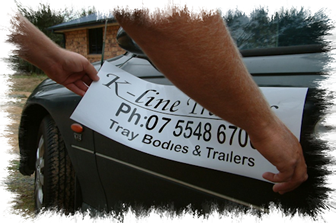 Take your advertising on the road with you with our custom magnetic signs. Our car magnets are great for promoting businesses on the go. Be sure to select the right size magnet for your truck or vehicle as our car signs come in a wide variety of sizes to fit all vehicles.
They are easy-to-apply and allow you to move your advertisement from vehicle to vehicle. Magnetic signs adhere to most cars and trucks, and stay on even at high speeds. Travel a lot? Use your car as a marketing tool! Advertise your web site. Magnetic Signs are quick and easy. They endure any weather. Digital magnetic signs are full color and have an over laminate and edge seal for further protection and are printed with UV resistant inks and media. Pick colors to match your business or pick colors to match your car!
Add that professional touch you're looking for to your advertising.
Our 100% vehicle magnetic signs are highly durable and a cost-effective way to promote name recognition within your business area.

If you are looking for lawn signs in the US or Canada, please call us at 1-866-LAWN-ADS or fill out our online request form.