OUR LAWN ADS DIFFERENCE
What Makes Lawn Ads different from other signs.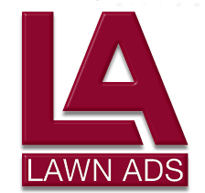 Lawn Ads has been making signs since 1993; however, the experience in this field started in 1987.
This company specializes in making effective Job Site Signs for Contractors. When you specialize in an area, you learn the beast well. For example, we have made hundreds of thousands of signs for roofing companies, painting companies, window and door contractors, home improvement contractors, heating and air conditioning, gas companies, pool contractors, renovation companies, remodelling, paving, plumbing and drains, water companies, shed contractors, landscape companies, roofing manufactures, shingle companies like GAF, Certainteed, Spar Marathon Roofing Supplies, Junk removal companies and many many more.
Almost any sign company you search on line will concentrate on giving you the lowest price and in turn will offer the traditional, boring, same old same old corrugated plastic signs and the same size that has been in circulation for over 30 years: 16″x24″ or 18″ x24″. Now we print on these as well as some don't want to change, so it's funny to knock them in the same sentence but here's our take on them.
Outpoints On Corrugated plastic signs:
They are transparent. I will take some pictures and post them on our site to make my point. One election locally here in Toronto, corrugated signs were everywhere. On one sunny day I drove past hundreds of them and I couldn't read any of them to be frank. The sun was going right through the advertisement, distorting the message. Now, I don't care how cheap they are being sold but I want my company name and number etc read while my signs are out there. They are there to get leads and sales and help name brand your company. They can't do that if they aren't readable!
Corrugated frames are not that strong. They are ok, but year after year you will drive around and see the signs bent all over the place. These frames are just not strong enough to withstand any form of wind or bad weather. Again, this results in your message not being read and looks cheap when your company is being displayed this way.
Why look the same as many of your competitors!? That's reason enough for me not to use them if I were a contractor, and I used to be one too so I can speak from that experience too!
The Good, The Better and The Best
Our Good Signs are made of cardboard stock with what are called U frames. These frames are better than the H frames and hold your signs studier. The virtue of these signs is they are economical, they stand up well and on cardstock we can print in full color. This way you can display a roof or a house in it's true colors! The size of these are in the traditional size of 24″x20″. These are good for simple messages, not many lines etc. They make great directional signs and election signs.
Our Better Signs are made of a non see through polyethylene plastic. This alone makes these better than coroplast as your message will always be read and not distorted by the sun. They are FULL COLOR and they come with our durable U metal frames. These are good for all uses but again the message needs to be simple. i.e. 3-4 lines, small logos are ok.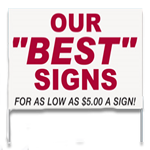 You Get What You Pay For! These are bigger than practically all your competitors so you will stick out above all of them! The size is 32″ x 22″. This is a size we purposely created ourselves. It allows for your message to be easily read, a few services to be promoted, a logo to be easily read, a big telephone number and even a website going across the bottom. The metal frames we use for these signs are the thickest, most durable in the industry! Meaning, you won't find you signs bent and twisted all over the place! ( as long as you still put the frames in 4-6″ deep)
We've had compliments from Illinois where one contractor said, " Your signs held up despite the hail storm." Others in California keep ordering them year after year; Maryland, Ohio, Michigan, Minneapolis, Florida, New Jersey, all over the states and in Canada, we have made hundreds of thousands of these signs and are truly THE BEST SIGNS.

If you are looking for lawn signs in the US or Canada, please call us at 1-866-LAWN-ADS or fill out our online request form.